News
 / 
Press Releases
Panasonic to Lease 509,760 SF at Flint Commerce Center in De Soto, Kansas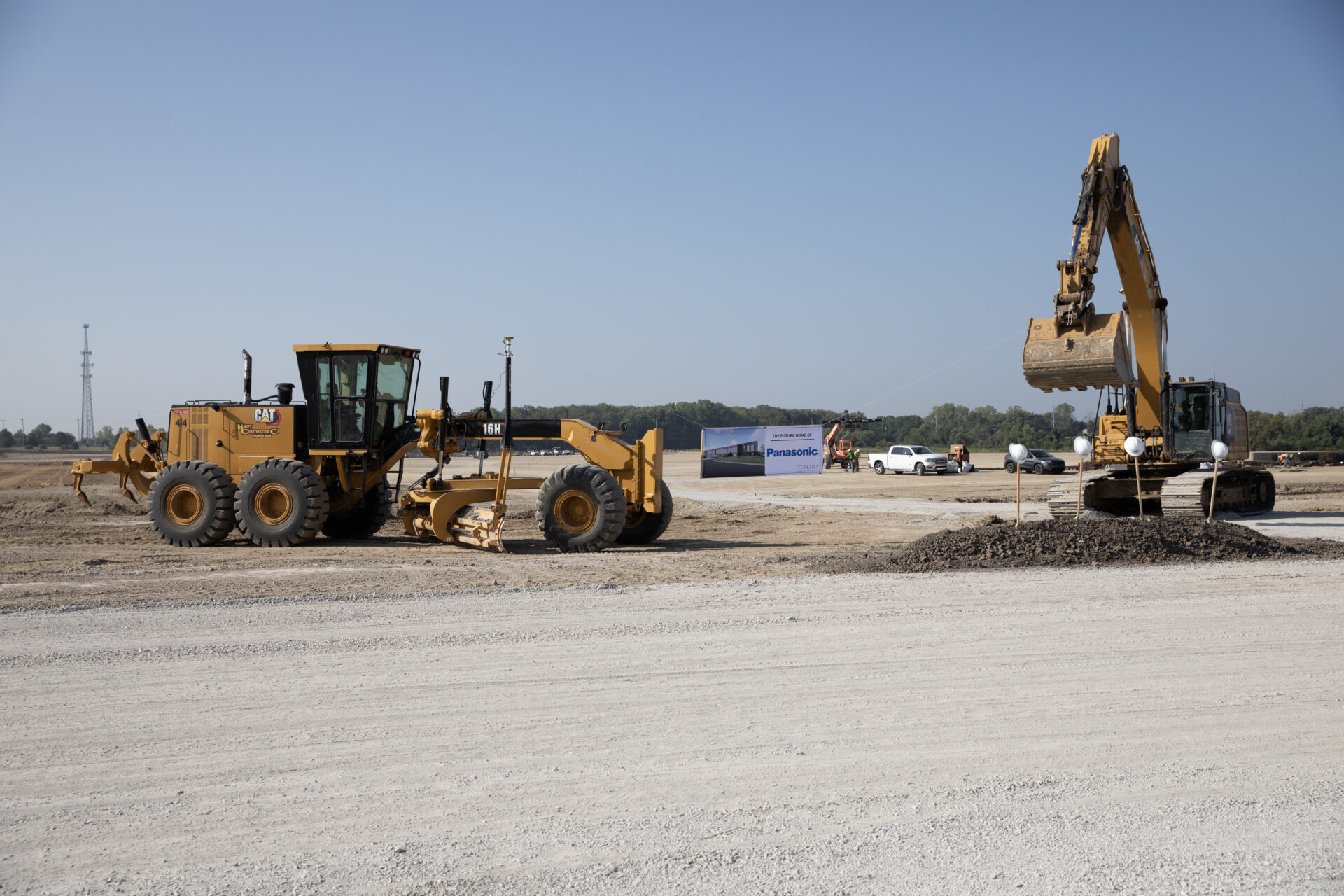 08/30/2023
---
Kansas City, MO (August 30, 2023) — Newmark Zimmer is pleased to announce the lease of 509,760 square feet to Panasonic Energy at the 1,019,520 square foot Building C in De Soto's Flint Commerce Center. The building, which has broken ground and is scheduled to deliver in Summer 2024, offers a state-of-the-art cross-dock design in one of the region's most strategic locations. In addition to the space for Panasonic Energy, the building will offer 509,760 square feet of speculatively constructed space to accommodate future users.
"There is a lot of excitement surrounding the Panasonic factory and we are happy to see the amount of prospect activity for Flint Commerce Center, said Mark C. Long, Chief Executive Office with Newmark Zimmer representing Flint Development. "Together, this lease and the additional land prepared for industrial development will create ongoing energy and demand in De Soto."
Flint Commerce Center is located on the northwest corner of 103rd Street and Edgerton Road. The 370-acre park offers among the largest vertical ready industrial and logistics sites in the region and can accommodate users ranging from 200,000 square feet to 2 million square feet. Additionally, the park is situated in a business-friendly community near labor, amenities and strategic transportation routes.
"We are pleased to partner with Panasonic Energy at Flint Commerce Center as they continue to grow their presence in the region and see them as a great fit for the park as we kick off the construction of our first building." said Devin Schuster, Founder and Partner with Flint Development.
The Flint Commerce Center lease marks the second major commitment by Panasonic Energy in the region, following their announcement of a $4 billion lithium-ion battery manufacturing factory. Additionally, De Soto is investing up to $40 million for water, sewer and road upgrades to support Panasonic and other future developments in the region.
Mark C. Long, John F. Hassler and Scott E. Bluhm with Newmark Zimmer handled lease negotiations of the transaction on behalf of Flint Development.
About Newmark Zimmer
Newmark Zimmer is a full-service commercial real estate company providing a range of services including sales and leasing, investment sales, property and facilities management, global corporate services, and owner's representative services for public and private development projects. Its staff boasts an array of experience in design, construction, valuation, finance and legal matters.
Regularly recognized as one of the top brokerage firms in the region, Newmark Zimmer manages nearly 20 million square feet of office, medical, industrial and retail property, and serves as corporate real estate advisor for an assortment of local, regional, national and international companies.
About Flint Development
Flint Development is a commercial real estate development firm based in Kansas City, specializing in industrial, multi-family and senior living development throughout the country. Flint has over 50 years of combined experience and a proven history in development projects that realize successful returns for partners and make positive impacts in communities.
About Newmark
Newmark Group, Inc. (Nasdaq: NMRK), together with its subsidiaries ("Newmark"), is a world leader in commercial real estate, seamlessly powering every phase of the property life cycle. Newmark's comprehensive suite of services and products is uniquely tailored to each client, from owners to occupiers, investors to founders, and startups to blue-chip companies. Combining the platform's global reach with market intelligence in both established and emerging property markets, Newmark provides superior service to clients across the industry spectrum. For the year ending December 31, 2022, Newmark generated revenues of approximately $2.7 billion. As of March 31, 2023, Newmark's company-owned offices, together with its business partners, operate from over 170 offices with approximately 7,300 professionals around the world.
Discussion of Forward-Looking Statements about Newmark
Statements in this document regarding Newmark that are not historical facts are "forward-looking statements" that involve risks and uncertainties, which could cause actual results to differ from those contained in the forward-looking statements. These include statements about the effects of the COVID-19 pandemic on the Company's business, results, financial position, liquidity and outlook, which may constitute forward-looking statements and are subject to the risk that the actual impact may differ, possibly materially, from what is currently expected. Except as required by law, Newmark undertakes no obligation to update any forward-looking statements. For a discussion of additional risks and uncertainties, which could cause actual results to differ from those contained in the forward-looking statements, see Newmark's Securities and Exchange Commission filings, including, but not limited to, the risk factors and Special Note on Forward-Looking Information set forth in these filings and any updates to such risk factors and Special Note on Forward-Looking Information contained in subsequent reports on Form 10-K, Form 10-Q or Form 8-K.
---